Concept: War Frame Tiburon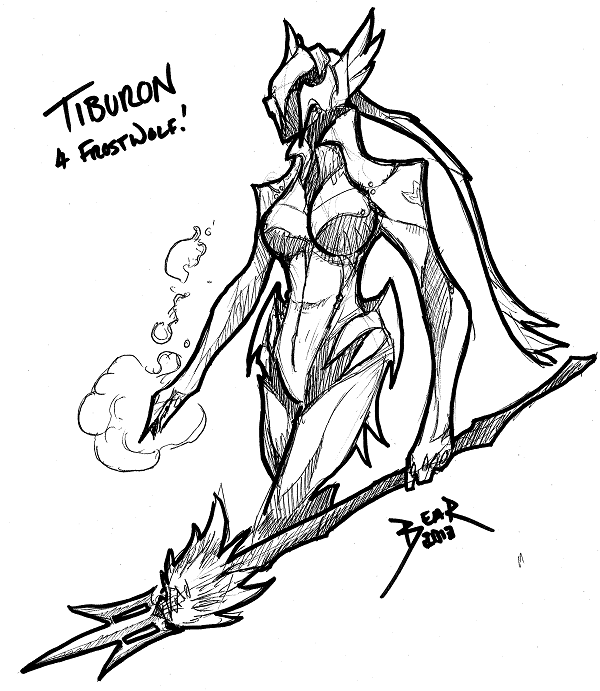 Concept Art by SilverBones




Concept Art by PantsAdvance
https://forums.warfr...twork/?p=456625
Version Two by PantsAdvance
https://forums.warfr...un-13/?p=699459

By SUMA

A little Lore
https://forums.warfr...6-i-am-tiburon/

-Its Spanish for Shark, but in Japanese it's Imperial Shark Empress which should be the major clue whom my inspiration for the Frame comes from-

If you've read my SSNN thread you'll note I have mentioned a specific frame twice using water. Well here is my attempt to make her playable. Don't know how it'll work out but nothing ventured nothing gained I suppose.

Role: A Female frontline tank/fighter meant to attack the enemy head on and break their formations.


Health: 100 Max 250
Shield: 150 Max 350
Energy: 150 Max 225


Armor: 100
Shield recharge: 25
Sprint: 1.2

Polarities: 4x Scratch
1x Offensive
1x Bar -2x if Prime Verison :P-


Alt Stats -using the current totals seen here
http://warframe.wiki...rframes_Compare

Health 100/300
Shield 100/ 300
Power 150/225
Armor 100
Shield recharge 22.5
Sprint: 1.1



While she is less hearty then the Tank Bros, She makes up for it by being faster, and a larger energy pool. This allows her to engage large groups or powerful singular enemies quickly and effectively.

Skills

Rain Bullet 25 energy
"Tiburon fires a high power projectile of condensed super heated water at the enemy knocking them down and delivering splash damage and stuns enemies around them"

Her basic opening attack used to soften enemies up before a charge or can be used to barrage. It is a mid to long range move can use it to break up groups of enemies. It does extra damage to heavy armor

Damage / Splash radius/Splash damage


Level 0/1 150 / 3 m / 45%
Level 2 275 / 4 m / 60 %
Level 3 350 / 5m / 80%


Scathing Mist 75 energy
"Tiburon creates a shroud of heated Mist that deals damage and saps vital energy from enemies inside the shroud back into herself"

The shroud is not stationary it follows Tiburon around. Enemies will have their health leeched away while inside the shroud while also having their defense reduced. This is her Tanking move as this lets her wade into combat while keeping her health high. Is most effective in groups and allows the team to deal heavy damage in melee.

Damage per second/Radius/ Duration / Armor Reduction/ Health restore per second

Level 0 25/ 2m/ 6 seconds /Armor Reduction 25% / Heath is restored at 5 points per second
Level 1 25/ 3m/ 6 seconds / Armor Reduction 25% / Helath restore 5 per second
Level 2 50/ 4m/ 9 seconds / Armor Reduction 40 % / 7 HP per Second
Level 3 75/ 6m/ 12 seconds /Armor Reduction 50% / 10 Hp per Second

How the HP restore works
If you have three enemies in the Mist being hurt by its effect, that's 15 HP back per second... The Mist like Snow Globe has no limit to number of enemies effected... If thier in range they get hurt.

Combo with Snow Globe for Horde killing potential.



Blood Boil 75 energy
" Targeting the Moisture around and inside a target, Tiburon converts it all to super heated vapor in an instant"

At first glance this is just a more costly less effective version her first skill that lacks splash damage and only stuns one enemy. However the secret to this move is to use it to kill an enemy. Their death then releases all that pent up Vapor and effectively creates a vapor bomb that devastates all enemies around them! Radius of the Vapor bomb if triggered is 5m meters and can only be increased by mods.
The Splash damage of the vapor bomb is a % of the Max health of the target enemy
.
Damage/ Splash damage
Level 0 75 / 60% Max health
Level 1 75/ 60%
Level 2 125/ 90%
Level 3 200 / 120%

Example: If an enemy has 1000 health and I kill them with Blood Boil rank 2 60% splash damage that deals 600 damage to all surrounding enemies.


Alt Method
Give the Move a AOE from the Target, If the initial cast doesn't trigger a Vapor bomb, enemies in a given area 3-7 meters are all afflicted with a Sap effect. If the Sap effect kills them they trigger a smaller less powerful Vapor bomb.

This gives the move some forgiveness, if you have trouble pulling it off and can potentially lead to mining a crowd for quick DPS, But retains the Trick nature to it.

Rending Cascade 100 energy
"Tiburon gathers all surrounding moisture into a single powerful torrent of Water which annihilates all on impact and sweeps"
This is Tiburon's ultimate, It is a forward nuke spell meant to deal heavy damage to those in the main area of the attack but also stuns and deals splash damage to those not hit by the main pillar of water.

Damage is 1000 like all Ultimates
Main attack radius/ Splash damage/ Splash radius

Level 0 2m, /30%/ 5m
Level 1 2m / 30% / 5m
Level 2 3m/ 40%/ 7m
Level 3 5m / 60%/ 10m
Helmet
Kahuna -Hawaiian for sorcerer-

"Increases the strength of Tiburon's powers but the strain effects her health"

15% Power increase to all skills

25% reduction to max health



Trademark Weapon

Frozen Queen


A Halberd that deals innate Freeze damage


Looks like the Nejibana from Bleach -hint hint again- which is a Chinese Ji mixed with a Japanese Yari and a Trident for flavor.

Here is some picks for reference -Not mine I can't draw stick figures straight-
http://fc00.devianta...asDarkLight.jpg

http://fc09.devianta...darkboy2010.jpg

Except the outer blades would be blue energy blades. maybe get rid of the tassel and the hilt would clearly be where the freeze chamber is.

It's bladed so it does not ignore armor like the Bo and Amphis
It does deal knock down with its jump attack as well as freeze.

Damage: 40
Fire rate: 1.2
Charge power: 125
Charge speed: 1

1 Offensive Polarity.


All stats are up for debate and changes, will appreciate feedback and critique.
Edited by FrostWolf, 26 August 2013 - 10:13 AM.