Ember got boned in update 9.8. I'll test her abilities and I may update the guide.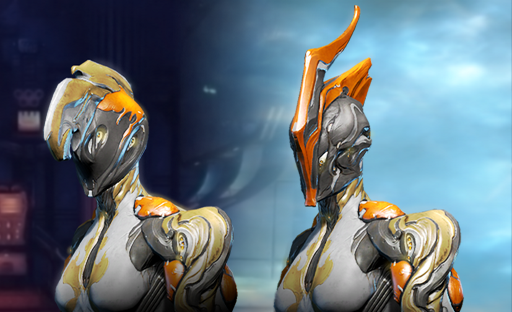 The Ember
EMBER is a nightmare for light-armored targets. Ember can super-heat the air which opens up surprising crowd-control possibilities.
Ember, the fire Warframe, is true to her description and will mercilessly burn anything and everything when played correctly. Her offensive and defensive abilities make her one of the strongest frames available. And, in the near future Ember will be receiving a buff which will hopefully further increase her destructive capabilities.
Ember is, by nature, an anti-Infested Warframe as fire innately does twice the damage to all types of Infested. Her efficiency against the Corpus is nearly paralleled as well. The Grineer are less inclined to fear fire but Ember does have her uses against them.
Besides her statistical attributes she is very fun to play. Pyromaniacs rejoice.
To add some credibility to my guide I'm a rank 10 player that has played and maxed all frames with the exception of Vauban. Ember is my main Warframe with over 90 hours played on her alone.
Basic Attributes
Ember can be farmed from General Sargus Ruk on Tethys, Saturn.
Ember has average shields and HP. However she shares the highest energy pool among Warframes which can further be augmented by the Phoenix Helmet. Her armor and sprint speed are also average. Ember has two — polarities which are perfect for casting mods such as streamline, flow, and constitution. She has a V aura mod.
Skills
Ember only has two very useful skills, Overheat and World on Fire (WoF). However these two skills are more than enough to stay alive and kill everything.
Skills: Fireball
Fireball, like many other first skills, is more or less useless at higher levels. It is one of the more higher damaging skills and offers AoE and tick damage but it is affected by resistances and thus will become ineffective later on.
Skills: Overheat
Overheat is, arguably, the best tanking skill in the game. Whilst Rhino has Iron Skin which lasts indefinitely, it is capped at 1560 damage (w/ mods). Trinity has Link but costs more energy and has less base duration than Overheat.
Overheat, with the Focus mod, will negate 91% of all damage; this includes poison, lasers, etc. This basically makes you invincible for the entire duration of the skill as you'd have to take several thousand damage to even break your shields. Furthermore, Overheat will give you a small aura of fire which will do 100 damage-ignoring ticks to any enemy that touches you. Overheat will protect from disruption until around lv 100.
Overheat can break crates and explosive barrels. Be careful when on Corpus Ships as touching the windows will break them.
Always be wary of the duration of Overheat. It is easy to forget to recast whilst taking enormous damage which can be dangerous. The only things you should be wary of are poison (even though it's reduced) and Phorid's needles (which do 20 HP per needle). Also unlike other tanking abilities it is susceptible to stagger and knock down.
Skills: Fireblast
Fireblast is a sub-par skill that can be left out of your build. It does armor-ignoring damage but does not work with Focus. Since its base damage is low it wont be as efficient against higher level enemies with more HP. Its only saving grace is that it is a near-instant cast skill that can stack, allowing for a panic skill when surrounded by heavies.
Skills: World on Fire
WoF is one of the highest damage ultimates in Warframe along with Miasma and Molecular Prime. It can target 3 enemies within its range and damage them for the duration of the ability. It will kill light infested and MOAs in one or two ticks. WoF is particularly useful when handling bosses as it will either outright kill them or keep their shields down. When combined with Overheat one just needs to stand and shoot until the boss dies.
Alternatively WoF is useful when trying to do stealth. It will either kill enemies or stun them long enough for your to dispatch them. This can allow you to rush through missions stealthily as, for some reason, enemies wont alert the ship once enough distance has been made between you and them.
Use caution when casting it as it does have a relatively long casting time.
Loadout
Unfortunately for Ember, she is a forma intensive frame to get the best results. She also requires a lot of rare mods which may be troublesome obtaining for newer players.
Vitality and Stretch can be switched with Thief's Wit/Master Thief and Rush respectively.
For weapons you'd want something that can take down heavies as WoF will destroy all of the light enemies. Ogris is particularly efficient as Ember can tank the AoE damage. When trying to level melee be wary of using Overheat as it may kill enemies.
Factions
Factions: Corpus
Ember is excellent against the Corpus. MOAs will take 3x or 4x as much damage from WoF which is not affected by resistances. This means that even at lv100+ MOAs will die within 2 or 3 ticks. Corpus Crewmen will either die or be stunned for a few seconds from WoF. Ospreys, with their low health, will suffer a similar fate.
Factions: Grineer
Grineer do have relatively high resistances to fire, however, Ember can still kill them without much trouble for most missions. Like Crewmen, the light Grineer will be stunned from fire and using WoF will help keep some Grineer from shooting you.
Factions: Infested
As stated earlier, Infested will take 2x as much damage from Ember's skills. Ember can easily clear a wave of light infested from one WoF. Ancients are a bit more of a concern and should be taken down with priority. Be extremely careful when in range of Disruptors as your energy pool is the key to your survival.
Conclusion
Ember is indeed one of the strongest frames in terms of survivability and damage. Although she does have her shortcomings in some respects, she is extremely useful as a general purpose frame. Her true potential is not available to newer players but to the established Tenno, she is well worth the investment.
Use the power of infernos well, Tenno.
Edited by Engelheim, 06 September 2013 - 08:21 PM.